Installation:
After having downloaded and inflated the ZIP file, you should run the file setup.exe to start the installation process. The installer will default to overwriting any Visitor installation it finds but no data should be lost. However, installation processes are deceptively complex businesses, on occasions things can, and do, go wrong, so it's always a good idea to ensure your data is backed up prior to starting any installation.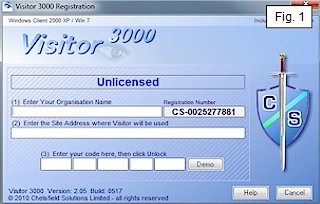 If you don't yet have a license key, you may run Visitor in demo mode by simply clicking the Demo button. The demonstration mode has strictly limited functionality: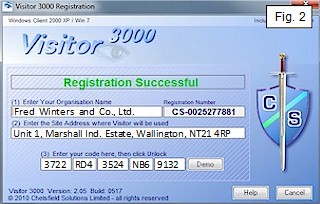 If for any reason an error has been made in entering the unlock code or any of the other details, then Visitor will show Registration Failed. There is no limit to the number of attempts you may make to register your product.

Demonstration Mode
Once Visitor has been installed and launched for the first time it will present a license screen as seen if Fig. 1. This dialogue will always be shown whenever Visitor starts, that is until you enter an unlock code.

In the demonstrator mode you can create, save, delete and edit visitor bookings but only one fixed ID pass can be printed by the system. In addition you may print the month and day bookings lists. The system will not allow you to change the in-out status of visitors. You cannot save, or manage photographs and whilst you can enter the system settings dialogue you are not permitted to save changes.

Unlocking Your Software
The process of unlocking the program is very quick and simple. Once you have paid for your license key, simply contact us by phone or e-mail. To make this quick and very easy, we suggest that you sit in front of your computer when telephoning us. You will need the following information:
1. Organisation Name: Note that this name forms part of your license identity and will appear on each of the printed lists and at the top left hand corner of each pass you issue.

2. Organisation Address: This address should be the site address at which the software is used and it should include a post code. The address you give forms part of your license identity.

3. Your Registration Number: You will need to tell us this number which can be found in the Registration Number box on the Visitor License Screen.
The precise details you give will be entered into our system and then we will be able to return your 21 character unlock code which should be entered into the Visitor license screen as shown below:

After receiving and entering your code, simply click the Unlock button to register your product. Visitor will show Registration Successful, as seen in Fig. 2. The license screen will then disappear and will not not reappear when you next launch Visitor. Your registration details are always available by clicking the Chelsfield Logo in the top right-hand corner of the main screen.

For further information download the Visitor Application Notes